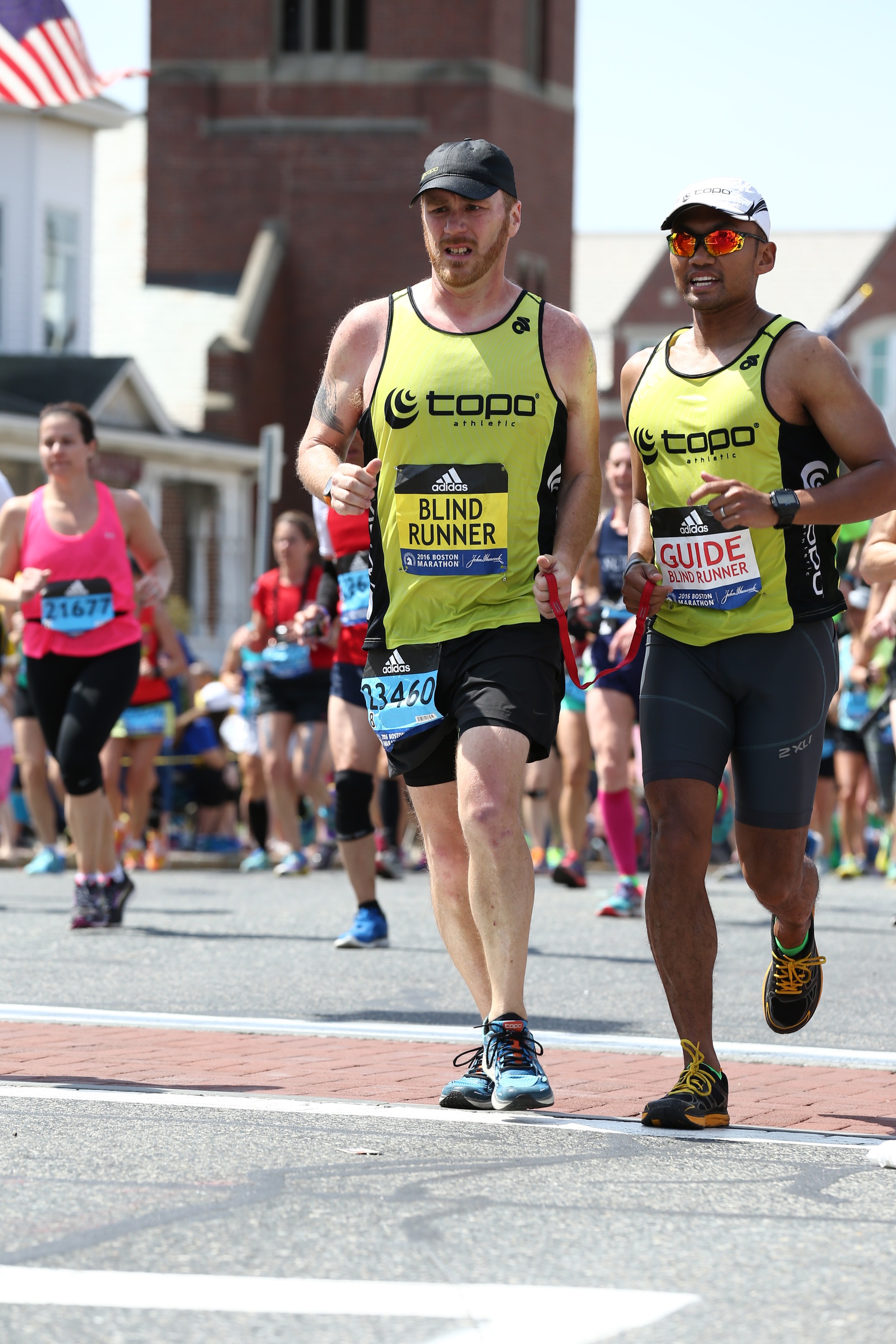 Born in Massachusetts and raised in Maine, Kyle Robidoux is a skier, runner, local beer enthusiast, and nonprofit program director who has worked tirelessly to ensure that he is not defined by the boundaries that others place on him and his vision.
Kyle was diagnosed with retinitis pigmentosa (RP), a degenerative eye disease that first affects your night vision and often leads to complete blindness, at age 11 and was declared legally blind at 19. While growing up, Kyle was active in every sport that included a ball—baseball, soccer, basketball, football, and even tennis recreationally. At the urging of his eye specialists, Kyle and his family started skiing the winter after he had been diagnosed with RP.
Kyle spent the first ten years post-diagnosis essentially ignoring his eye condition and most of the next ten depressed and angry at his increasing vision loss. It wasn't until he started walking, then running—along with seeing a counselor—that he began to understand that things he loved, including skiing and baseball, were not being taken away from him as much as he was giving up on them.
In January 2010 Kyle was close to 250 pounds, being encouraged to take cholesterol medicine, heading down the path to type II diabetes, and having a hard time playing with his young daughter. He began to walk. Then he started to run for 30 minutes. Then an hour. Then two hours. After that two-hour run, Kyle thought he would never run that far again—until he signed up for his first race, the Maine Half Marathon, in the fall of 2010.
He was immediately hooked and continued running longer and farther. He lost close to 70 pounds and all of his health indicators are healthy. He has now completed over 25 marathons and ultramarathons, including five Boston Marathons and three 100-mile races. In the summer of 2018, Kyle, with the support of his sighted guides, completed the grueling six-day, 120-mile Transrockies Run, which includes over 23,000 feet of elevation gain, all at an altitude above 8,000 feet.
In addition to running, Kyle is an avid Alpine skier. In 2016 he took up Alpine racing and placed fourth in the U.S. Nationals Giant Slalom, a Paralympic-qualifying race. Although no longer racing, Kyle loves being on the slopes with friends and family, including his 11-year-old daughter, who is right on his heals at the bottom of a fast run.
Kyle has focused his professional and personal career on building community. He has spent 20 years working in the nonprofit sector, including as a housing advocate helping individuals staying in shelters find permanent homes and as a community organizer. Most recently he has directed three programs for a local blindness organization. Kyle is also active in his neighborhood and community as a member of several boards and as a mentor.